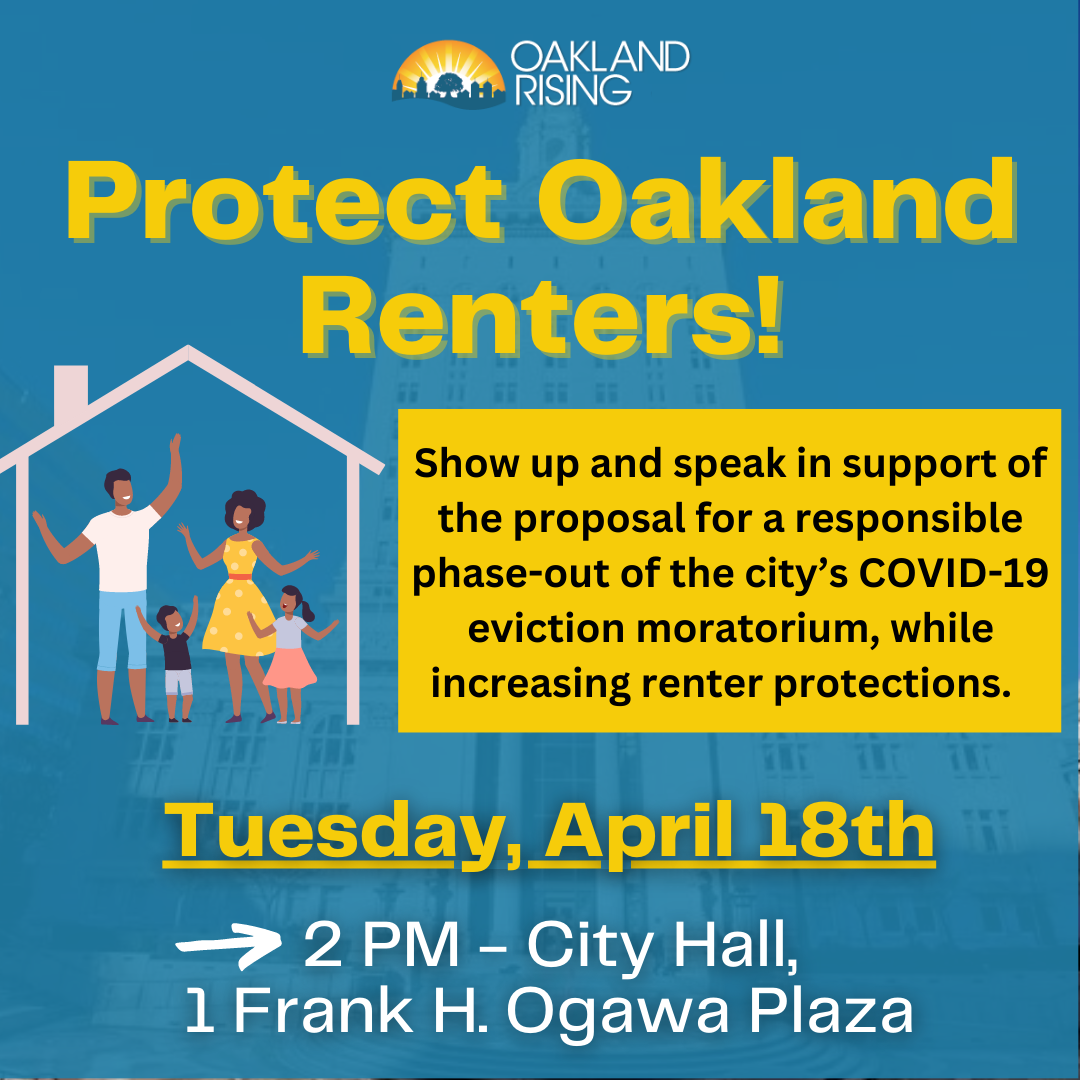 Good news: on April 11th, City Council President Nikki Fortunato Bas and Councilmember Dan Kalb's proposed plan for an eviction moratorium phaseout was PASSED out of the Community and Economic Development Committee. The proposal now goes to the full Oakland City Council tomorrow, Tuesday April 18th at 5pm. We need all hands on deck to show our support for renters and small landlords!
CM Bas and CM Kalb proposed a real solution that will phase out the moratorium thoughtfully and responsibly while expanding renter protections to ensure our most vulnerable renters remain housed. We need you to show your support for this plan! With nearly 60% of Oakland households being renters, ending the moratorium earlier than September puts our neighbors at risk of eviction and homelessness.
We need ALL of our Councilmembers to support this proposal and prioritize tenant protections over the interests of corporate landlords and developers. Please call or email the following City Councilmembers and the Mayor before tomorrow's meeting at 4pm to push them to vote YES on Agenda Item 9:
District 4: CM Janani Ramachandran, (510) 238-7004, [email protected]
District 5: CM Noel Gallo, (510) 238-7005, [email protected]
District 6: CM Kevin Jenkins, (510) 238-7006, [email protected]
Mayor Sheng Thao, (510) 238-3141, [email protected]
Not sure who your Councilmember is? Look up your district.
Use the following script when calling or emailing:"Hello, my name is ______ and I am a (renter? homeowner? landlord? unhoused?) and a resident in District ___. I want Councilmember ______ to know that having tenant protections was important to all of Oakland during the pandemic and saved thousands of residents from becoming unhoused. We all understand that this moratorium must end but we have to sunset the moratorium in a thoughtful and responsible way. We also need permanent protections that renters' rights groups asked for to prevent "gotcha" evictions for trivial lease violations. Oakland cannot risk an eviction surge that will add to our City's worsening homeless crisis. We're asking you to stand with renters—and not lobbyists for corporate landlords–to make sure those protections are as strong as possible at the Council Meeting! (Add your personal story)."
Share your comment and story in person! We are also asking you to show up at City Hall (1 Frank H. Ogawa Plaza) and fill the chambers as early as 2pm, as landlords and anti-tenant groups plan to attend the Tuesday meeting and silence renters' voices.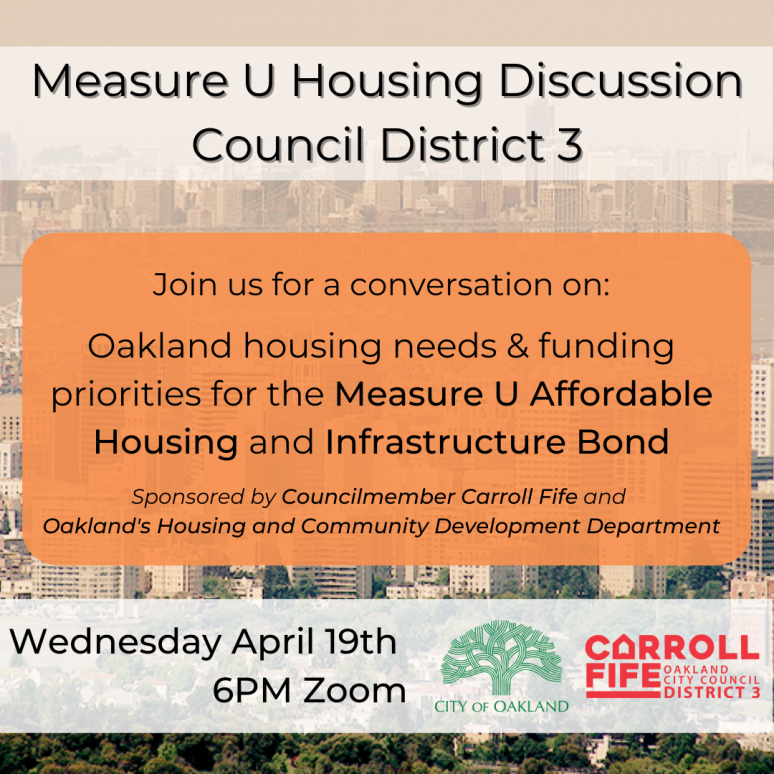 District 3: CM Carroll Fife and Oakland's Housing and Community Development Department are hosting a discussion on Oakland's current housing needs and funding priorities being developed for Measure U's Affordable Housing and Infrastructure Bond this Wednesday, April 19th at 6pm via zoom. Click on the link below to register.
Your presence at the City Council meeting and the Measure U Housing Discussion helps us create housing opportunities and security for all Oaklanders – not just those who can afford it or stand to benefit from it. Hope to see you there tomorrow!