Know Your Voting Rights

   In California, you can legally register to vote up to the day of the election – meaning you can register on November 8, 2022 at your polling location and get an absentee ballot. All registered voters in Alameda County will be sent a vote-by-mail ballot. The last day to register to receive a vote-by-mail ballot for the General Election is Monday, October 24, 2022. 
Voters have until 8PM on Tuesday, November 8, 2022 to vote in the General Election.

  All registered voters of Alameda County will receive their ballot by mail regardless of whether you signed up for vote-by-mail. Starting on Monday, October 10th, 2022, you can cast your vote early by putting your filled out and sealed ballot in the mail or in a ballot drop-off box. If you have not received your ballot by mail yet, you can track the status here.

  If you are dropping off your ballot at a drop-off box, please make sure it is an official Alameda County drop box and that you drop your ballot off by 8PM on November 8. To find a drop box location in Alameda County, go here. You can also drop off your ballot at any polling place on Election Day or at one of the early voting sites.

  If you are mailing in your ballot, drop it off at the post office and make sure it is postmarked by Tuesday, November 8 (check your local USPS office to find out what time they close).
Fill out your ballot, using blue or black ink, follow the folding instructions, and put your completed ballot in the return envelope
Sign your name on the back and seal the envelope
Put it in the mailbox. No stamps are necessary.

  If you prefer to vote in-person, click here to find your preliminary voting location in Alameda County. Polling locations close at 8PM on November 8, and if you are in line by closing time, you are allowed to submit your ballot at the polling location.

  You can check your voter registration information online with just a few clicks. This information will determine whether you receive translated materials by mail, so double-check that your address is up-to-date and your language preference is accurate. If you need to change your address or language preference, you can simply re-register using the same link.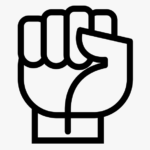 If you have a past or current conviction, you can still register to vote if:
You were incarcerated at a state or federal prison and finished serving your term
You are currently on parole or probation
You are currently serving time in a county jail
Read more about voting if you have a past conviction.
Visit acvote.org for more information.
Ranked-Choice Voting
When voting in Oakland races, you may rank your top five choices for mayor, city council, city attorney, city auditor, and school board directors using ranked-choice voting (RCV). RCV allows you to choose the candidates who most align with your values, and allows us to elect someone who garnered the overall support of the majority of voters – all while avoiding expensive primary elections. With RCV, you may vote for up to five candidates in order of your preference BUT you do not need to fill out all five. If you feel adamantly against particular candidates, we recommend leaving them out of your ranking even if this means leaving your some of your choices blank.   
Want to learn more about how ranked choice voting works? Check out these resources: