Members of the Oakland City Council woke up to the sounds of mariachi music, drums and dancers this morning as protestors gathered outside their homes calling for them to defund the Oakland Police Department.
"We're coming here to wake him up and bring him on our side to defund the police – Oakland Police Department – by 50% or $150 million," said Liz Suk with Oakland Rising, outside of council member Noel Gallo's house Monday morning.
Similar colorful protests are being held at Merritt College and North Oakland. Correction: these are Aztec dancers who were later joined by Mariachi musicians.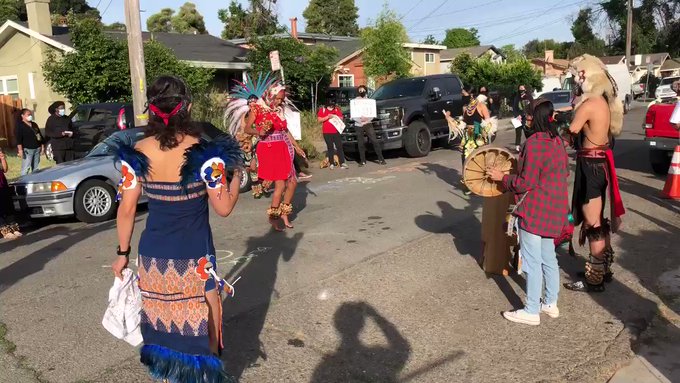 2 – Matt Bigler – @mattbigler740
Protestors visited Gallo on E 17th Street as well as his colleague Dan Kalb.
"We want that money to go to services like mental health services and critical services that are going to help us have a just transition after we see ourselves through the pandemic," said Suk.
Proponents of "defund police" movement say that police department budgets have ballooned massively, and want to see some of that money shifted towards services that can help address the root causes of societal issues such as homelessness, which police are not appropriately trained to deal with.
Gallo came out of his house to speak with the protestors, but did not commit to making the large cuts they asked for. He told the crowd that he views education as the community's highest priority.
Gallo said education was the most important thing for this community. Oakland Rising plans to hold similar protests Monday in North Oakland and at Merritt Community College.