Things just don't seem to slow down with the Oakland Unified School District (OUSD). This week Alameda County Superintendent of Schools Alysse Castro ordered a special election to fill the vacancy for the District 5 seat on the OUSD Board of Trustees. The Board had until May 19 to fill the vacancy by appointment but remained split on the decision 3:3. By failing to address this issue effectively and on time, the OUSD Board forces a special election which means:
• Over $500,000 will be allocated towards an avoidable election this November 7th; and
• No representation on the school board for District 5 residents until the end of the year.
The voices of the most impacted – Oakland youth – must be heard in the process. While Oakland voters passed Measure QQ in 2020 to allow youth to vote in school board races, the Registrar of Voters unfortunately decided not to implement the youth vote for this election. We are calling for the Registrar to reconsider this decision. We urge the Registrar of Voters to collaborate closely with the Oakland Youth Vote Coalition to ensure the inclusion of our youth in this critical decision-making process.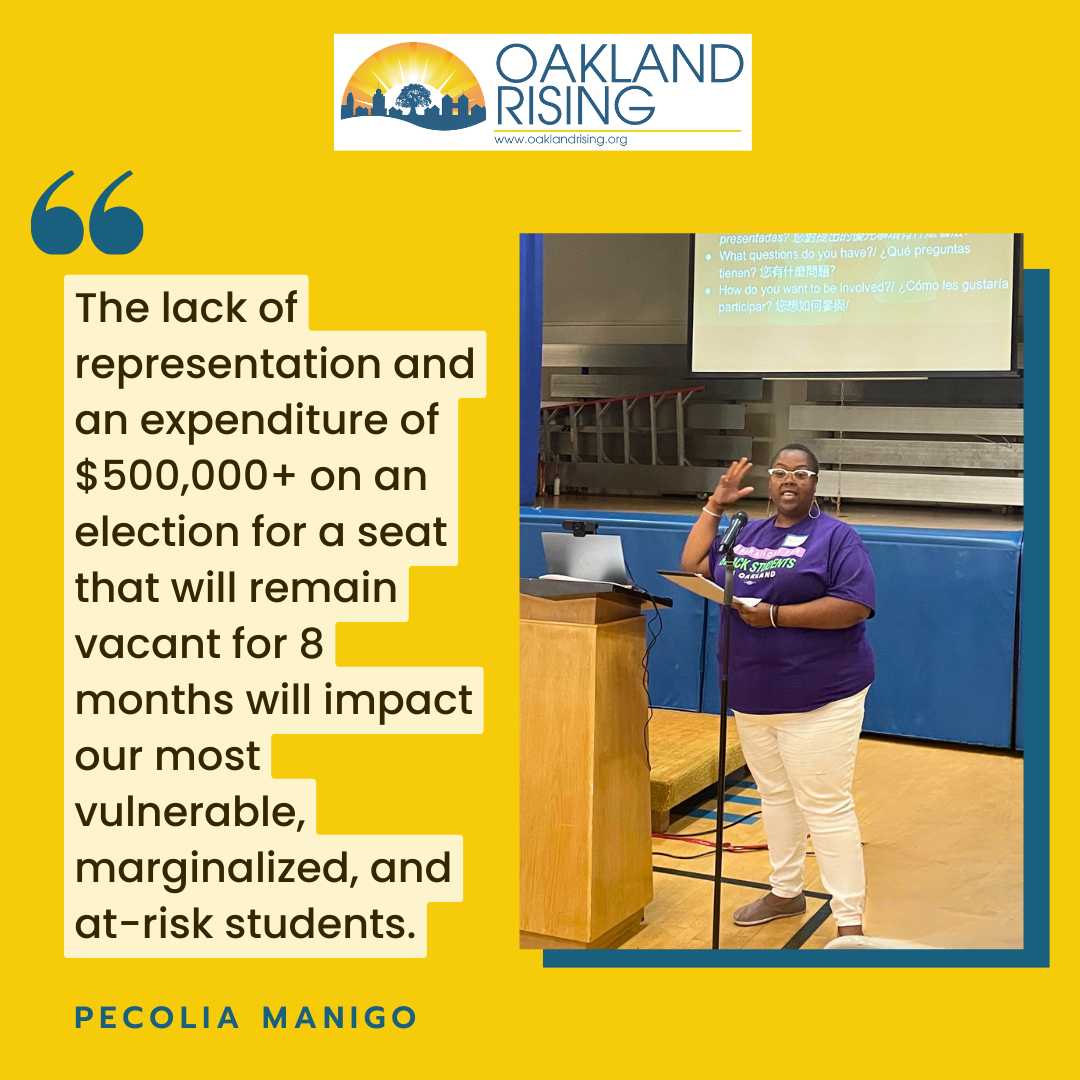 With the recent OEA strike and budget negotiations, it is clear that a full school board is crucial to make informed decisions that prioritize the needs of our students. We deserve a local government that is effective, responsible, and representative of all of us, regardless of our district. Now OUSD will be spending over $500,000 of taxpayer money on a low-turnout special election that is unlikely to truly represent the diversity of District 5's community. The lack of representation and an expenditure of half a million dollars on an election for a seat that will remain vacant for eight months will impact our most vulnerable, marginalized, and at-risk students.
At a time when Oakland is facing its most significant budget deficit in history, this special election poses a significant financial burden to families and taxpayers. The district funds should be prioritizing the needs of our students, such as supporting teachers, counselors, and librarians, rather than wasted on an unnecessary election. We demand a school board that delivers quality education without any further delays – leaving the seat vacant for almost a year is simply unacceptable.
Celebrating the Wins of the Oakland Teacher's Strike!
As a single parent of two OUSD students, anytime our teachers strike, it impacts our family. Like many other working parents, we had to figure out how to both support our teachers and make space for not crossing the picket line. The majority of OUSD parents wholeheartedly support our teachers to be compensated for their hard work educating our students. However, I think we would love to see our district leaders recognize that our teachers should not have to strike to get that compensation and better working conditions. My 2nd grader had a pretty clear message about this during the rally when he talked with CBS at one of the strike rallies.
That's why I am thrilled that the Oakland Education Association (OEA) membership has voted overwhelmingly to ratify their new Tentative Agreement. Our collective achievements will help Oakland move forward toward a more stable future for education in Oakland.
Highlights of the OEA Tentative Agreement wins that have a direct impact on our students include:
Community Schools:
• Shared Governance at each Community School, giving voice to OEA members, parents, staff, and secondary students.
Reparations for Black Students:
• Allocation of 5 FTE TSAs at Black Thriving Community Schools to support Historically Black Schools and facilitate the implementation of the Black Student Thriving Plan.
• Shared Governance on the Task Force overseeing over $2 million in spending, including OEA members, parents, and students.
School Closures:
• OUSD's commitment to notify sites under consideration for closure, conduct an Equity Impact Analysis, hold two public meetings, and genuinely consider public input. OEA retains the right to grieve.
Housing and Transportation for OUSD Students:
• A pledge to collaborate with non-profit organizations to provide stable housing for housing-insecure students.
• A commitment to work with AC Transit to ensure transportation for all OUSD students, with priority given to those qualifying for free and reduced lunch.
These victories will create a more inclusive, equitable, and nurturing educational environment for our students. Let's celebrate the progress the OEA has made in creating safe, stable, and racially just community schools in Oakland.