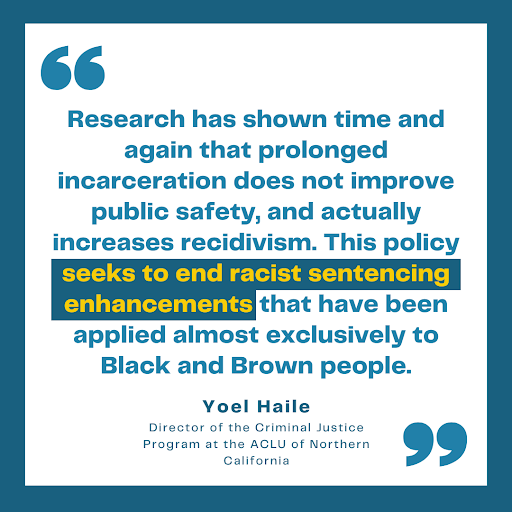 Since voters elected Pamela Price as their new District Attorney, we have witnessed progress made to Alameda County's criminal justice system. As a member of the Alameda County DA Accountability Table, we helped set the tone for DA Price's priorities with a 100-Day Agenda to transform the DA's office. Priorities focused on:ending mass incarceration, eliminating racism from the criminal legal system, and holding police accountable.We are pleased to report that DA Price has taken significant steps towards fulfilling her campaign' promises.
Voters elected DA Price for her reformist agenda which promised to bring an end to the racist and carceral status quo of past administrations. One of the boldest steps that DA Price has taken during her time in office is reducing our heavy reliance on sentencing enhancements and allegations with the goal of reducing recidivism – putting an end to racist sentencing enhancements that almost exclusively only apply to Black and Brown people. DA Price's administration has also reopened eight cases with police killings for review, a step forward in holding police accountable for extrajudicial killings.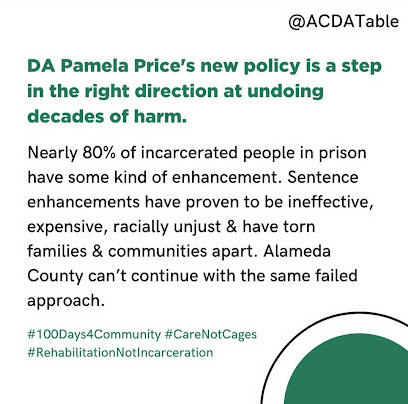 With police and media having made several attempts to engage in a disinformation campaign against DA Price, this reveals the real intentions and actions of these institutions – to pushback on transforming the prosecutor's office's historic role in driving mass incarceration and allowing the epidemic of police violence to go unchecked.
We will push for continued progress in the future from the DA's office and we hope you too will join us in supporting the transformative work being done in Alameda County.
Oakland: Speak out against the creation of a new Oakland Police Department Substation at the Fruitvale Transit Village! Join community organizations as we say "NO!" to District 5's City Councilmember, Noel Gallo's joint plan with OPD to bring more police to Fruitvale. Your presence and voice is needed at the Fruitvale Public Safety Summit (San Antonio Senior Center: 3301 E. 12th Street, Suite 201) on Monday, April 17th from 5-7pm. We don't need more police harassing our communities and our youth!
Our partner organization, Communities United for Restorative Youth Justice (CURYJ), plans to open the Oscar Grant Youth Power Zone across from the Fruitvale BART next year. Having a stronger police presence near the site will disrupt the community and youth power zone they are creating. Register below to show your solidarity with our youth.
Let's show up in full force to advocate for real community solutions that keep us safe.